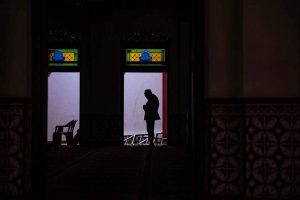 Despite what they want you to think, Sri Lanka really is a multi-ethnic, multi-religious island nation. Mosques sit side-by-side with Churches and Kovils are often seen within the same premises as a Buddhist temple. Worshippers of all faiths mingle with the gods of others, making our real belief system far deeper than a single doctrine. Nowhere is this more evident than in Colombo whose rich history of religious architecture finds its most vibrant manifestations. 
This is for those of you who live in Colombo and tend to forget the stories your hometown holds – and for those of you thinking of making a home in a city that straddles the line between modern metropolis and historical hot-pot. Let's delve deeper into four houses of worship seated in old Colombo, where this city was first founded.
OUR LADY OF KOTAHENA
On the corner of St. Benedict's & St. Lucia's streets in Kotahena emerges a late 19th Century cathedral of epic proportions. Dedicated to an Italian from the Middle Ages, the Roman Catholic Saint Lucy is also venerated by the Anglican, Lutheran and Eastern Christian churches. Commenced as a small house of worship during Dutch occupation, the spectacular structure and its wood-paneled interiors visible today is incidentally also the seat of the Archbishop from the Sri Lankan Roman Catholic Archdiocese.

THE STONE TEMPLE
Further along the city, on Sri Ramanathan Mawatha and just passed the revered St. Anthony's shrine in Kochchikade sits another 19th century structure, made of stone and dedicated to the Hindu deity, Shiva. The Sri Ponnambalawaneswaram Temple dates back to 1857, when a local landowner wanted to provide a place of worship for Hindus in Colombo. Its stark stone structure and carvings are vastly different to other vibrantly painted Hindu kovils around Colombo, but is no less spectacular. In fact, the omission of colour provides a more spiritual air to the temple creating a meditative atmosphere to the entire grounds.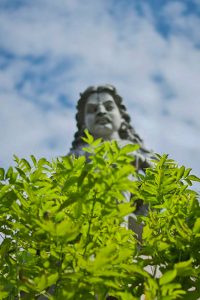 THE RED MOSQUE
On 2nd Cross Street in Pettah rises the early 20th Century Jami Ul-Alfar Mosque. Commonly referred to as the Red Mosque, this magnificent piece of architecture has a most unusual story. Designed and constructed by the unqualified Habibu Labbe Saibu Labbe, the structure is a hybrid, combining various architectural influences such as Indo-Islamic, Indian, Gothic revival and Neo-Classical. Often considered a tourist site, it is a pity that more locals haven't visited  its breathtaking design.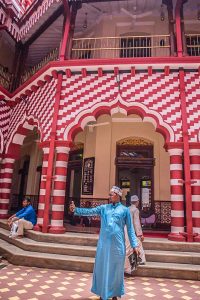 THE GANGARAMAYA
We often think of places far away from Colombo when it comes to sites of importance to our Buddhist heritage, but this isn't entirely true. While it was only built in the late 19th Century under the patronage of the famous shipping merchant Mudliyar Don Bastian, the Gangaramaya Temple's architecture alone eccentrically combines the design heritages of Thailand, China and India in addition to our own. As a collective of countries enshrined in Buddhism, this Colombo shrine becomes an even more significant site to visit, by local and visitor alike.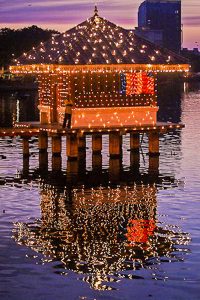 ---
   COLOMBO ON MY MIND
A Column by Natalie Soysa