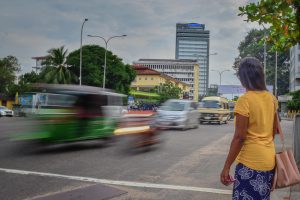 Colombo is constantly in a manic panic, a city that can't be still. Can you see it? The fidgety little metropolis that's rushing about with its destination unknown?
And then comes rush-hour when life slows down. No one's really rushing when they're bumper to bumper. You get restless when buckled-up in seats sometimes, but eventually you give in; sit back, simmer down and wait it out.
Picture this. It's 6.15.
And the light is hazy on this November evening.
A container truck is stopped at the Narahenpita traffic lights. The windows are down so you can hear the sound of Nanada Malani crooning her Freedom Balila (Nidahas Baila) coming out of the FM radio and reaching the streets below. A yellow tuk tuk fights its way through traffic cracks and putters about to the right of the lorry. Inside, brand new parents cradle a baby; swaddled, wrapped and way too packed up for a balmy afternoon. To the left of the lorry is a black Subaru, its low-growl of an engine thud-thudding to Miss. Malani's choon.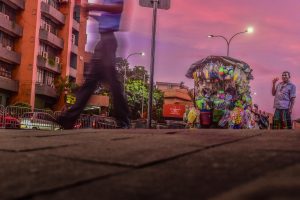 On the other side of the city, a bus loaded with travellers makes a b-line to exit the A1 and enter Colombo. Inside is a city boy going home. Further on, a rail gate closes, waiting for the train to come and go. The Uttara Devi (Queen of the North) was heading closer to the Fort Station. Inside was a girl feeling lost enough to find her way here.
Let's step outside.
Pedestrians rush to reach a crossing. Then slow down to cross it. On pavements and down lanes are tables outside coffee shops serving slow motion lattes until the traffic dies. Others drown their day in a bottle, lining up outside Wine Stores that sell more than wine. A quarter of gal. A half of pol. A standing shot. A packet of kadala and coconut chips from the cart outside to swallow it down.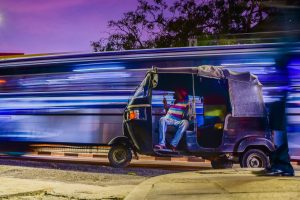 On the 17th floor balcony of a Union Place apartment, newlyweds sip their evening tea. The ant world below and its dot-sized people seem so far away that they look up and feel closer to the sky instead.
Life is good. Calm and slow and a little too noisy. But I wonder why we call it what we call it because nobody's really rushing when Rush Hour comes around.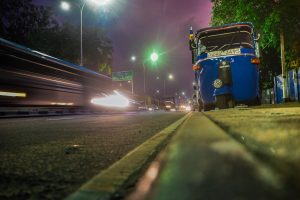 COLOMBO ON MY MIND
A Column by Natalie Soysa